TAMPA, Florida. – The University of South Florida board of trustees heard a proposal on Tuesday to build its on-campus football stadium behind the team's practice grounds.
A committee and the athletic director weighed the options for five possible venues and ended up suggesting Sycamore Fields for further study. They made the recommendation based on several criteria, including accessibility (driving/walking distance), parking, location to support services, and whether this site will appeal to the public.
For example, fans could visualize tailgating opportunities.
Currently, Sycamore Fields is used for intramural sports. It is located in the USF Athletics area on the east side of the Tampa campus, including the new Indoor Performance Facility. It is also close to student accommodation and parking.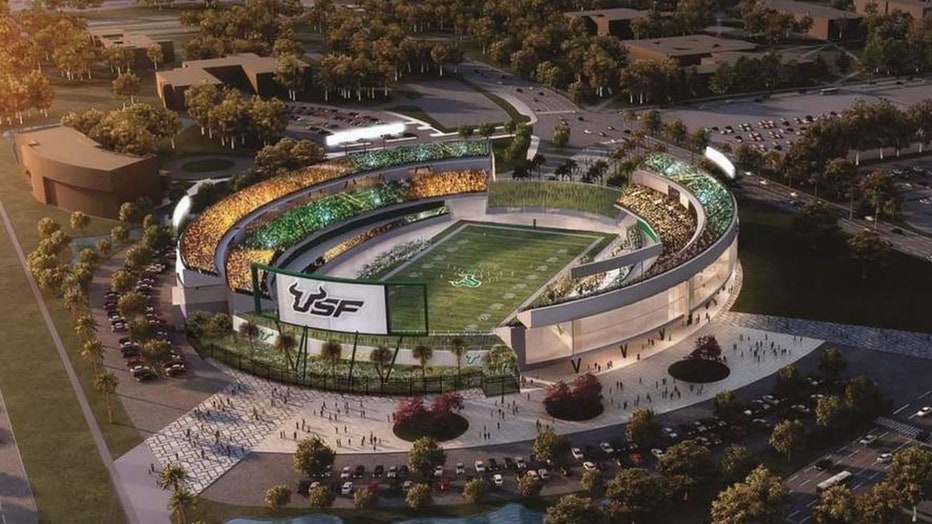 READ: Chris Oladokun hopes his 6-year college journey will lead to the NFL
"Sycamore Fields is not only the location of the stadium with the most advantages, but it is undoubtedly the most historically appropriate," Vice President of Athletics Michael Kelly said in a statement. "Our football program was literally born on these grounds a quarter of a century ago, and they have been our primary training and development area for more than a decade as USF football has grown in prominence. at an unprecedented rate.Having the stadium reside in an area that has this history and is also part of our current sporting footprint, adjacent to many other sporting facilities and parking, is a tremendous opportunity to continue our tradition of very smart way."
USF's football program currently calls Raymond James Stadium home — but principals and students have said the space is too big.
Tuesday's presentation was only a recommendation, and a proposed financial package to fund the stadium will be in place by this summer. It could cost between $250 and $400 million.
The committee that oversees stadium research on campus will return to the board at a later date after further analysis for the Sycamore Fields site.
Also during the meeting, it was announced that the university would receive a $5 million donation from Frank and Carol Morsani, a philanthropic couple who have donated to USF over the years. It will be used towards the stadium on campus.
"We have loved watching Bulls football over the past 25 years and are delighted to be making the first donation to the stadium," a Morsanis statement said. "An on-campus stadium elevates not just our athletic programs, but our entire university. We look forward to others joining us in making a financial commitment that will help make this project a reality."