Nepal is hosting the SAFF Women's Championship for the second consecutive time. There is a lot of hope that Nepal can win the tournament as the Nepal women's football team have been runners-up four times. But, if you look at recent developments, there is little to no chance that Nepal will be able to do so.
The championship will start on September 6, but preparations for the tournament have not started for the Nepal women's football team. Although the city that will host the tournament has not yet been decided, the host team do not have a coach, so they have not been called up for a closed camp.
The gender divide
All Nepal Football Association prioritizing men's football over women's football is an age-old affair. The only time ANFA turns to the women's team is when they participate in specific tournaments. The situation is such that they don't even have a permanent coach since they have a new one for each tournament.
"We are ignored," says a member of the women's national team. "The men's team trains regularly before a tournament, but we are not allowed to do so. We don't even know who is going to coach us. How can we do well when this happens? »
As the women's soccer team participated in the 19th Asian Games in Hangzhou for the first time, the responsibility of coaching the team was handed over to Bal Gopal Maharjan. He had been coaching the team for a month. It is likely that he will also be given the task of coaching the team for the SAFF Championships, but things are not certain as the coaching has come to a halt after the postponement of the Asian Games.
The last time Nepal women's football team played a match was in September 2021. They faced Bangladesh, won one and drew another. Things are worse if you look at things from 2014. Since then, Nepal have only played friendly matches with two teams, Malaysia and Bangladesh. This is a major concern as the team members believe they should have played with better teams so they could prepare for the SAFF Women's Championship.
"We need to put in place a long-term plan to improve the team," said NAFA women's department head Hari Khadka. "We need to give them better training and exposure only then they can do well."
Weak SAFF preparations
Nepal will once again have to go through India if they want to win everything. In all five editions of the SAFF Women's Championship, India have been Nepal's biggest enemy. The Nepal women's football team lost four times in the final and once in the semi-finals. But this year, Bangladesh will also pose a threat to Nepal.
Anjila Tumbapo Subba, the team's goalkeeper, tells Onlinekhabar that since the closed camp hadn't started, the player's psyche was affected. Most of them thought they would end up losing once again, especially against India.
"We always lose against India because we don't have enough time to prepare," explained Subba.
Former women's team coach Khadka agrees preparations are not enough. He thinks the team needs to play a lot more games to compete with India.
"We shouldn't have stopped the training camp that was going on for the Asian Games," Khadka says, adding that he asked ANFA to start training as soon as possible.
Challenge to beat India
Nepal women's football team are undefeated against all participants in the SAFF Women's Championship except India. India is the powerhouse of women's football in South Asia, having won all five editions.
India continue to improve their squad while Nepal haven't done anything as such.
"India train all year round while we train when the tournament approaches. won't improve if we don't train and play games."
The goal of the Nepal women's football team in every tournament is to beat India. If they beat India, it is almost certain that they will win the championship. But, given the preparations, it is very unlikely that this will happen this year.
"Of course, having a goal and being determined to beat India is good, but it won't get us anywhere," said Sabitra Bhandari, the Nepali goal machine. "We need adequate supervision and regular training. Unless that happens, we're not going anywhere.
Need a permanent coach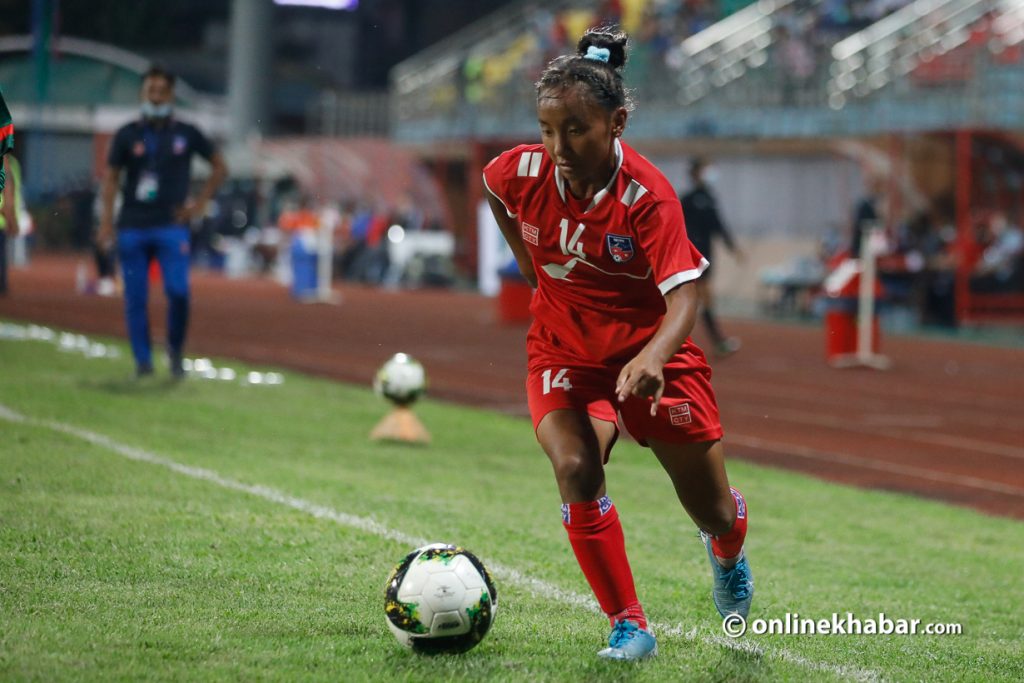 Bhandari believes that one of the main reasons why the Nepal women's football team hasn't been able to improve is that they don't have a permanent coach. That means they don't even have regular training. Since coaches are appointed based on tournaments, players are often stuck in a dilemma as to what training methods they should consider.
Since the departure of Gary Phillips in 2021, the team no longer had a coach. Recently, Bal Gopal Maharjan, who has done well for the men's team as a head coach, was appointed as the head coach for the Asian Games. But, he says he doesn't know if he will be given the responsibility of coaching Nepal in the SAFF Women's Championship.
"They gave me the responsibility of taking the team to the Asian Games. I don't know if I will be given the role of coaching the team in the SAFF Championship," says Maharjan.
It is likely that the decision will be made at the ANFA executive committee meeting on Thursday.
Home environment
The women's soccer team has been neglected for years. It's not just about international competitions. What also disappoints the players is the lack of national competitions. Compared to men, women hardly participate in any competition.
ANFA hosted another edition of the Women's National League, but failed to stage the league's second round, which it announced it would host in May. This will also be discussed at the next ANFA executive meeting.
In an effort to improve women's football, ANFA plans to build an academy in Rautahat. But, due to legal disputes, his process has yet to begin. ANFA's new president, Pankaj Bikram Nembang, said he would take advantage of this during his tenure.
But will he keep his promise?
---
This story has been translated from the original Nepali version and edited for clarity and length.