Long-time SFS and SCG tenants, both sports organizations and clubs, have been invited to submit names for consideration for naming stands and other areas in the new district.
People familiar with the process told the Herald that female candidates have been nominated by several sports, but most are relatively modern figures, adding complexity to a process designed to recognize long-standing historical ties to the SFS and the wider SCG precinct.
While women's cricket, soccer, rugby and rugby league teams play both grounds regularly now, even as recently as the turn of the century, women's sporting fixtures were infrequent at SFS and SCG.
Football Australia has included several former Matildas among its submissions to the trust. Some of the names submitted were Julie Dolan, Moya Dodd, Jo Peters and Cheryl Salisbury.
In 2018 Australian sprinters Betty Cuthbert and Marlene Mathews were the first women to be honored with bronze statues on the forecourt of the old SFS, acknowledging the fact that they had both broken world records at the old Sydney Sports Ground in the 1950s.
Women's rugby league has a history at Moore Park that goes back even further, according to rugby league historian Katherine Haines.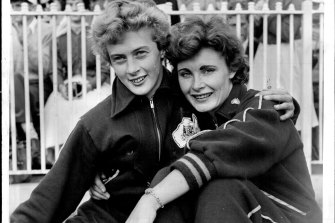 Haines said an ideal candidate for recognition would be Maggie Maloney, who was "the undisputed star" of Sydney's women's rugby league training competition in the early 1920s.
Maloney was the standout player in a 1921 match between Metropolitan Blues and Sydney at the nearby farmland (the former Sydney Showground at Moore Park), a clash which drew over 30,000 spectators and front-page coverage in newspapers.
Captain of women's rugby league pioneer Nellie Doherty, 15-year-old Maloney scored four tries on the wing and the Redfern speedster was dubbed 'the Dally Messenger woman'. Messenger was even on hand to watch and kicked it off at halftime.
Loading
"The crowd loved him. In the second half they had learned her name and they were all shouting, 'Come on Maggie, come on Maggie' when she got the ball back," Haines said.
"Like Dally Messenger, she was seen by the public and the media as the first star of women's football.
"She was the headline star and her fame lasted for several years. Unfortunately women's rugby league had so many hurdles and with opposition from the NSW Rugby League they were unable to access the pitches to play so they were unable to get the competition started as planned and she was then unperformed for many decades. But Maggie was the big star, no doubt.