Antrim took the lead in the Football League's Third Division with a commanding 1-19, 0-12 win over Longford at Corrigan Park.
There was a huge disappointment for Down, however, as they suffered a crushing 0-15 0-14 defeat in their Division Two relegation battle against Offaly at Pairc Esler.
The Mournemen's Division 2 future is now in serious doubt after blowing a three-point lead with five minutes remaining.
Those who doubted the Safrans were genuine candidates for promotion to the Third Division may need to rethink the evidence of this display.
Tomas McCann's penalty was the perfect start, but Antrim's pace, aim and conditioning were hugely impressive.
They were leading 1-11 to 0-3 at halftime and were never threatened afterwards.
The victory takes Antrim to seven points from five games, although Limerick have the opportunity to regain top spot later on Saturday when they host Westmeath at the Gaelic Grounds.
The other crucial game this weekend in terms of the top of the table sees Fermanagh host Louth on Sunday with both teams entering this contest with five points.
Saturday's game looked like a potentially tough test for Antrim after Longford's four-point victory over Westmeath at Mullingar last weekend, but the Saffrons dominated from the start against opponents who badly missed their injured talisman Mickey Quinn .
After Odhran Eastwood's run earned McCann's successful penalty in the opening seconds, Antrim fully exploited their first-half wind advantage to effectively put the game to bed before half-time.
Offaly smashes Down with dramatic win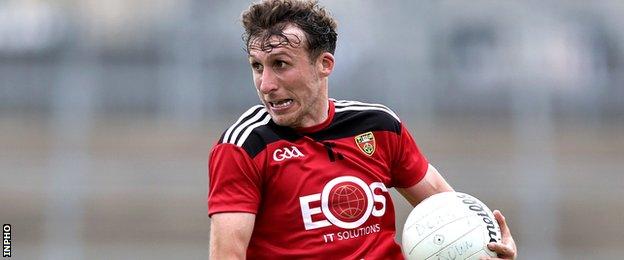 In difficult conditions in Newry, both teams entered the encounter knowing that defeat would be a blow to their hopes of retaining that all-important Division Two status next year.
An extremely close game had been up and down from the start and it wasn't until the 65th minute that both sides opened up a three-point lead, with Down moving from 0-14 to 0-11 in front.
It came courtesy of a Niall Kane score on a 45 that resulted from a missed goalscoring opportunity when Pat Havern hit the crossbar with a fist effort, with Barry O'Hagan – who impressed on the night – unable to convert the rebound.
The visitors produced an exceptional response, however, to score four points and secure an unlikely victory, the first of which was a point from Bernard Allen as he looked to have the chance to go on goal.
Niall Darby followed that up with an incredible point and goalkeeper Paddy Dunican tied the scores at 0-14 at 0-14 with a free in the 70th minute before Lee Pearson hit a spectacular late winner in the 73rd and final minute.
There was just enough time for Down to make an equalizing effort, but it was misery at the final whistle for James McCartan's men who are stuck on a single Championship point for the season.
The sides were down 0-8 to 0-8 at the end of a first half in which the visitors got off to a good start before being pushed back as the pattern for a close game was set from the start. O'Hagan scored four points but couldn't prevent Offaly's late comeback.
"In Our Hands" Promotional Spot – McGinley
Antrim manager Enda McGinley tried to dampen any sense of euphoria as he highlighted the absence of Quinn and other influential players from Longford, but acknowledged that a place of promotion "is always essentially in our hands" as they face conclusive matches at Mickey Harte's Louth and Westmeath home.
"We know Louth is very good. We had a bit of luck against them last year and I just hope our luck doesn't run out."
Another point from McCann and further scoring from brothers Murray Conor and Ryan plus Ruairi McCann put Enda McGinley's side ahead 1-4 to 0-0 after just 12 minutes.
Darren Gallagher opened the account for Longford with a free kick a minute later, but the excellent Marc Jordan allowed Antrim to score again four minutes later and the Murray brothers contributed five more scores before half-time then that the Saffrons extended their advantage to 11 points.
Helped by the elements, Longford improved after the break but Antrim still managed to score consistently with substitute Pat Chivers contributing two of the second-half scores.
Jayson Matthews and Cian Dooner both scored 0-2 for Longford in the second half, but those scores did not mask a trying afternoon for Billy O'Loughlin's side, who finished the game with 14 men after the late expulsion of Eoghan McCormack.
With Antrim now firmly in contention for promotion, Longford will face a battle to avoid the Division Four drop as they remain on three points from their five games before their final games against Wicklow and Laois.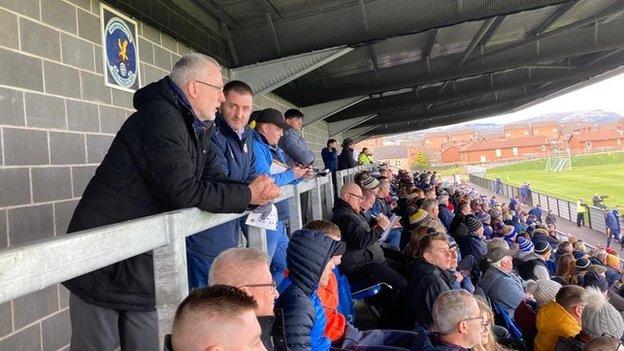 Asked about the controversy over Cavan's attempt to move Ulster's April 23 Championship game away from Corrigan Park due to concerns over the 3,700 capacity, Antrim boss McGinley called his main emotion of "perplexity".
The 2020 Ulster champions proposed the game be moved to another venue at an Ulster Council meeting on Wednesday evening and only Antrim, Derry and Tyrone voted against the motion.
"I really can't understand the logic of the process, how it happened or the final decision.
"As players and the management team, we will play where we are placed. Hopefully we can find a place where Cavan will agree to play us," said McGinley, who made it clear that his current goal in full on Antrim's league campaign.
Interestingly, GAA chairman Larry McCarthy was a spectator at Corrigan Park on Saturday and some observers interpreted this as a show of support for the position of the Antrim GAA board on the matter of the venue of the match. Ulster SFC.